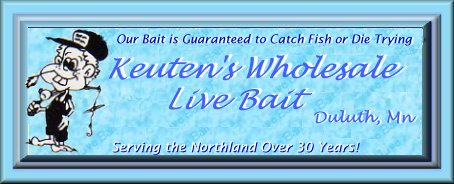 Fishing and Other Photo's
If you have any fishing photo's or memorabilia from Jim's Bait shop or the Keuten Family that you'd like to contribute please send them to the webmaster @ Email FullMoon Graphics
Please only send .jpg or .gif format for photos. Thanks!

Where Would You Like To Go?







Contact Keuten's Wholesale Live Bait
Craig A. Keuten
Keutens Wholesale Live Bait
114 S. Arlington Avenue
Duluth, MN 55811
Email Keutens Wholesale Live Bait
Office: 218-727-3046
Cell: 218-348-6554


If you would like to link to this site please use this image,
Copy and save to your own hard drive.
Thanks!